17 CANDLES AND A CAKE IN WOLFEBORO...
Greetings everybody. Tonight I am in the lakes region of New Hampshire near Wolfeboro where the family, (all 3 of us) are celebrating a big occasion. Eden, is turning 17. Man oh man, how the time flies. I've had many blessings in my time on earth but none greater than her. She is the compass and purpose of my life. Here are a few snap shots going back to the early days.
Time stops for no-one and now 17 years later maturity has brought me this. I am taken by her beauty but more important, I'm thrilled with the young woman that's emerged. She is far advanced from where I was at that age.
Since today is her day, my post will not be my usual high end effort and I thank you for allowing me that luxury.
WHAT ABOUT SNOW ON SUNDAY?
The big question on everyone's mind anyway is how much snow falls Sunday? In my last post I mentioned how the operational models such as the EURO, GFS, and Canadian GEM were further south with snow compared to the hi-res models such as the 3K and 12K NAM. My hope was today there would be more of a consensus in solutions and we have made some progress. To sum it up, there has been a compromise towards a middle ground solution.
The EURO has been the most consistent model the past 24 hours keeping the heaviest snows of 2-3" near and northwest of the Quad Cities.
The GFS has a similar look with some 4" amounts NW of Waterloo.
Even the Canadian GEM is showing good consistency with that idea.
This is the 3K NAM which is a bit lighter from EC Iowa into Illinois but not by more than an inch.
The official NWS forecast looks like this. That's not far off but I think the best chance for 2" amounts are found NW of a line from near Iowa City to Clinton and off to Sterling, Illinois. If trends hold I would imagine the NWS at some point puts out a winter weather advisory for that general area.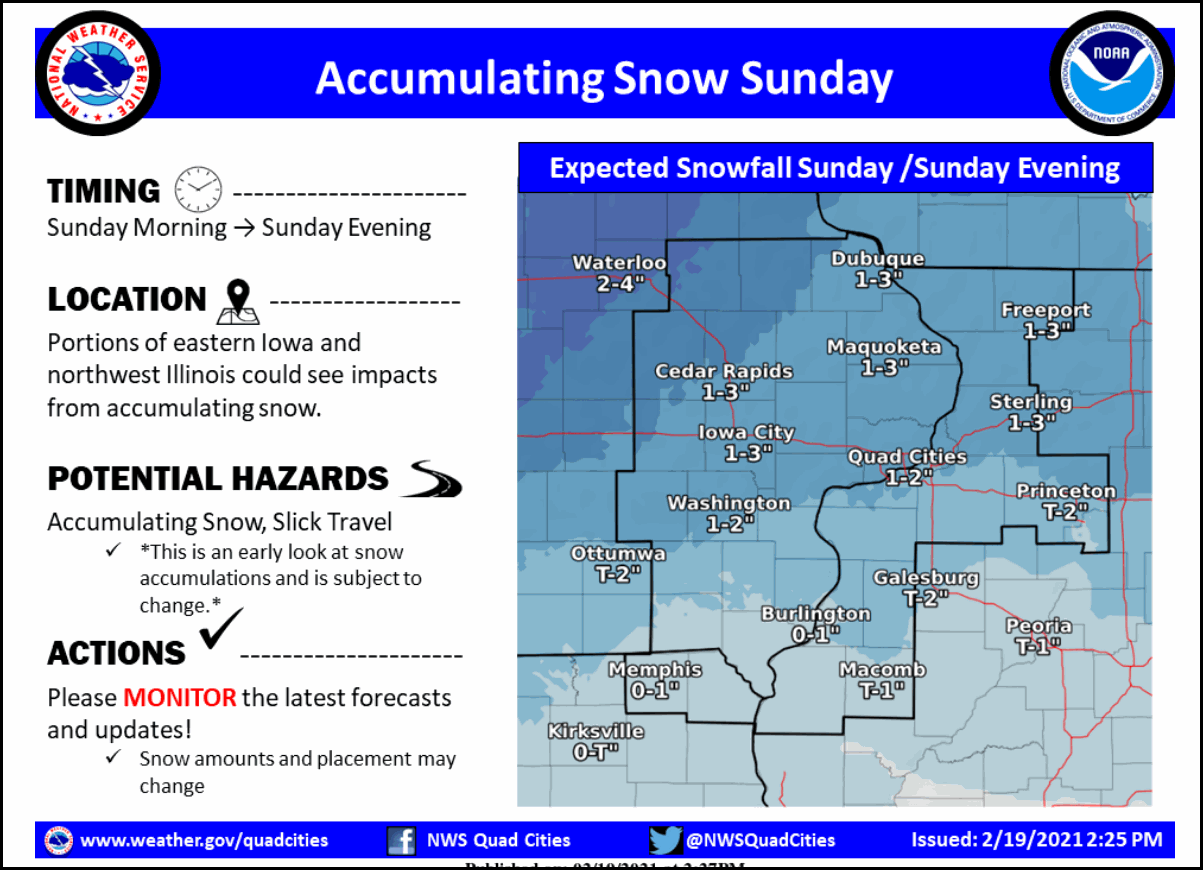 Outside of a few flurries or snow showers Saturday night, the main snow band does not arrive until Sunday morning before quickly lifting out Sunday night. By then, the damage will be done and most of the area should have seen 1-3" totals, with the lighter amounts south of I-80 (especially south of HWY 34) where an inch or less is likely.
Since we are still more than 24 hours away there is a chance amounts could shift slightly north or south but overall I think the system is showing its hand. Of course, there will be updates for fine tuning later Saturday but it sure looks like more shoveling is in the cards for most of us by Sunday night. Now I need to find 17 candles and a cake! Roll weather...TS
LIMITED COPIES LEFT:
A SECOND PRINTING OF MY NEW BOOK IS ON THE WAY...
The second printing of my new book Derecho, Iowa's Inland Hurricane has just arrived and can be purchased below. However they are going fast and if you are interested in having the most authoritative account of this extreme event you need to act now. Don't miss this opportunity to own the weather story of a generation. You can order yours at derechobook.com See the book endorsements below
BOOK ENDORSEMENTS.
*This book has been quite the talk with the Iowa State Library promoting it. I have never seen the State Library promote any books like this unless it was an award winner of particular interest to libraries. Hopefully your sales are through the roof!
Jolene Kronschnabel-Director of Hawkins Memorial Library, La Porte City, Iowa
*I ordered one of your Derecho books about the storm in Cedar Rapids, IA back in December. I love it! I had also bought one that the Cedar Rapids Gazette sold. Your book by far is so much better, you have a lot more pictures and it just tells more of the story. Thank you for putting a wonderful keepsake together! Do you have any left? If so can you tell me how to get at least one more.
Thank you so much! Penny Brecke
*Hi Terry and Carolyn!
Thank you for my book, the kind dedication and wonderful job on the book warmed my heart!! Loved all the info-great job Terry! Carolyn the stories brought tears to my eyes. I have to admit it was difficult to read at first-reliving that day, but joy also with the way you wrote them in such good faith! We are living in town as our house is still gutted. Work is slow but progressing. The damage was far greater than we thought, but it will be glorious again one day! Love and prayer.
Jenny Janssen
*I received my book yesterday (just in time for Christmas). Thank you for all the hard work it took to put it together and trying so hard to get this book out. My husband will love it. Enjoyed your Christmas Video.
Karleen Booth