With Thanksgiving just over a week away its time to start getting serious about snow. Unfortunately for those of us who dig the white gold, there's no reason to get excited about coming prospects. In fact, the overall pattern has been horrible for storms, let alone snow around the central Midwest for nearly 4 weeks. Even worse, I don't see it getting better anytime soon!
All the medium to long range models are showing some form of zonal to northwest flow dominating the central United States through the rest of November. The big take away in this type of pattern is the lack of overall moisture and ability for storms to dig or amplify. The fast flow keeps things progressive and precipitation totals light. I see nothing today that would indicate a break in the general set-up. Here's the 500mb jet black Friday, November 24th. See the death ridge over the Plains.
The other take away is the mean position of the ridge centered over the high Plains. That implies the heart of the cold is centered well northeast of the Midwest. From time to time glancing blows of colder air will clip the area but they look to be progressive. In other words the cold does not lock in for long periods. The push pull pattern brings moderate warm-ups on the back side of the cold highs that come and go at regular intervals.
Anticipating an eastward centering of the mean ridge, the Climate Prediction Center shows this for 8-14 day temperatures. Slightly warmer than we've been seeing since late October
8-14 day precipitation looks like this. Ugly dry for much of the nation!
The experimental 3-4 week outlooks from CPC show this for temperatures and precipitation through December 9th. Not much hope here. More of the same!
Here's temperatures: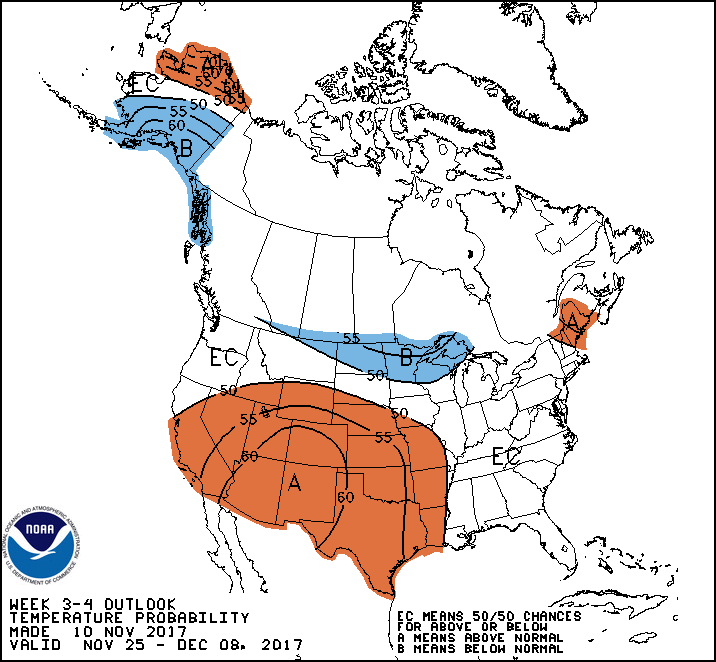 And here's precipitation
If that's not enough to bring a snow loving weatherhead to severe angst, this should do it. The CFSv2 winter temperature outlook.
Now the December temperature outlook.
Dear me! That does not resemble a La Nina winter. Clearly, it's not time to panic in mid-November (especially over the CFSv2) but the trends I've seen today are concerning for the start of meteorological winter which begins December 1st. We need to get this turned around in the next 2-3 weeks or this winter could end up going the wrong direction. I'm sure not happy with what's been put on the table today. Even Thanksgiving is already looking much warmer than it did yesterday. I'm truly wondering if climate change is overpowering what used to be reliable trend indicators. Sorry to be a downer snow lovers, I'm hoping this will pass. Roll weather...TS