Each time the heat and humidity come back storms aren't too far behind. It was hot and humid Saturday with temperatures in the 80s and 90s and dew points in the 70s. This created heat indices near and above the 100 degree mark in parts of the Midwest. Here are the heat index values in my local area from Saturday afternoon.
It's going to be another hot and humid day Sunday... and it may be even a little hotter than Saturday:
And feeling even hotter... oof!
With the high heat and humidity there will be plenty of instability and moisture for storms to blossom Sunday afternoon.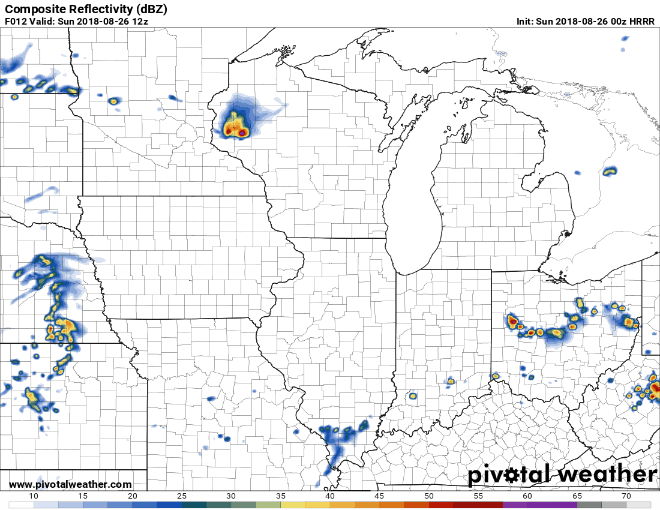 Some strong storms will be possible, particularly in northeast Iowa into Minnesota and Wisconsin.
Strong winds and large hail will be the main concerns with some locally heavy rain. Unfortunately, the rain once again stays to the north of I-80 and well to the north of areas that need the rain the most.
The summery pattern continues into the start of the week and storms once again look to favor the northern part of the Midwest.
The hi-resolution NAM is being a bit bullish on storms, but the rainfall totals shows the trend toward the north for storms over the next 48 hours.
We're getting closer to fall, but August is ending with summer heat, humidity, and storms!
RK