ENOUGH OF THIS ALREADY...
When I left for work at 1:00 pm Thursday the temperature was a whopping 43 degrees. The northwest wind of 25 mph had the wind chill at 35 degrees. A typical day in early March. How pathetic and what a change from last May 9th when the high was 81. Looking that stat up I was reminded of how different this May is compared to 2018. Take a look below.
7 of the first 9 days last May the high was 80 or above. This year we've had no 80 degree days. This May has had 4 highs in the 50s. Last year nothing cooler than 74. The average high for that period this year is 63.1. Last year it was 80.3. Need I say more!
The silver lining is the fact we're not in Duluth, Minnesota where the all-time record was set for May snowfall with 10.9" accompanied by thunder and lightning.
Here's the May snowfall records set in Duluth.
With this latest snow some parts the of Minnesota arrowhead have now exceeded 12 feet of snow for the season. That makes our 4 foot total here in Cedar Rapids look puny!
If the EURO EPS weeklies are correct, meteorological summer looks to get off to a cooler than average start over many parts of the central U.S. I'm fully expecting that to be the case but this is fresh reinforcement of my belief. Here's the temperature departures for the next 46 days out to June 21st.
A couple reasons for the cool start to summer are wet soil conditions and more widespread precipitation in the coming 6 weeks.The weeklies show this for total rainfall through June 21st.
Here are the associated precipitation departures.
I mentioned soil moisture as a contributor to cool temperatures. As you can see much of my area's soil moisture levels are in the 99th percentile. Wet ground does not warm as much as dry soil. It also adds water vapor which keeps temperatures cooler, especially during the day.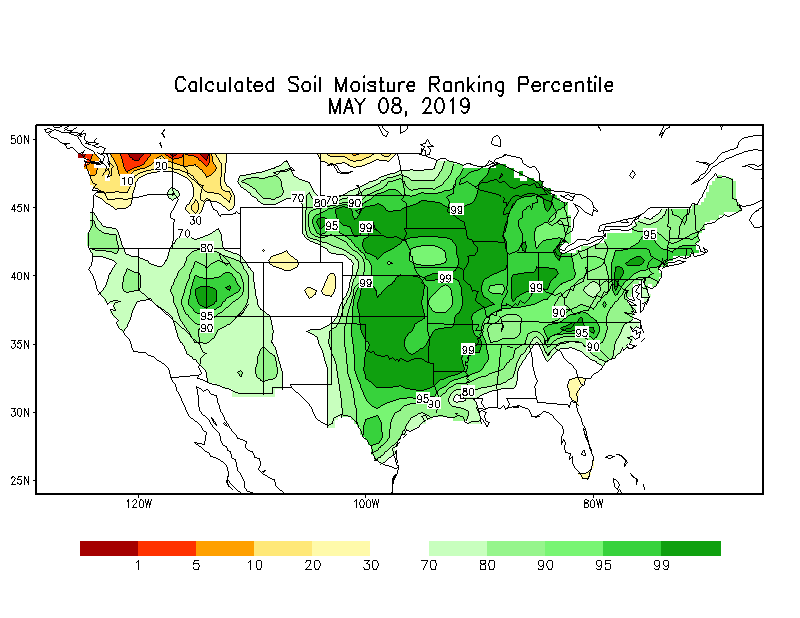 The past week has turned drier over the upper Midwest.
However, with the ground so saturated the below normal precipitation did little to reduce soggy spoils which continue at 99 percent levels in southern Minnesota and much of Wisconsin.
That leads me into Mother's Day weekend which looks cool but dry through Saturday. Some problems arrive Mother's day when a vigorous upper air low digs into the Midwest. It generates a cool pocket aloft that should provide instability, clouds, and at least some scattered showers. Rain amounts look light over my area and there will be plenty of dry hours but temperatures will be hard pressed to get out of the 50s. The EURO shows this for highs Sunday.
The EURO has this for rainfall. I'm worried this could end up further east.
One last observation and that is the fact there does appear to be a nice warm-up for several days late next week that could last through the weekend. Highs could even reach 80! I'm down with that.
And with that I conclude this post on what was a chilly May day. Happy Friday and here's to mom and the weekend. Roll weather...TS