STRONG STORM COULD BRING THE WARMEST DAY SINCE FALL...
Winter was certainly easier on us this year than last. Temperatures were well above normal and in most areas snowfall was below average (although a few spots did attain normal levels). Here's the average temperatures for the past 90 days going back to Christmas.
The past 120 days (since October 24th) readings have been 3-4 degrees above average. That's a healthy departure and it no doubt saved us some cash with far less heating degree days than we would typically expect!
Some places in far southern Missouri and Illinois have seen less than an inch of snow for the entire winter season.
These are the snowfall departures. The light green denotes near normal snowfall which encompasses most of my counties east of the Mississippi.
Our thoughts have long since turned to spring and the Climate Prediction Center has issued this outlook for April. According to the experts most of my area comes in with near average temperatures and above normal precipitation.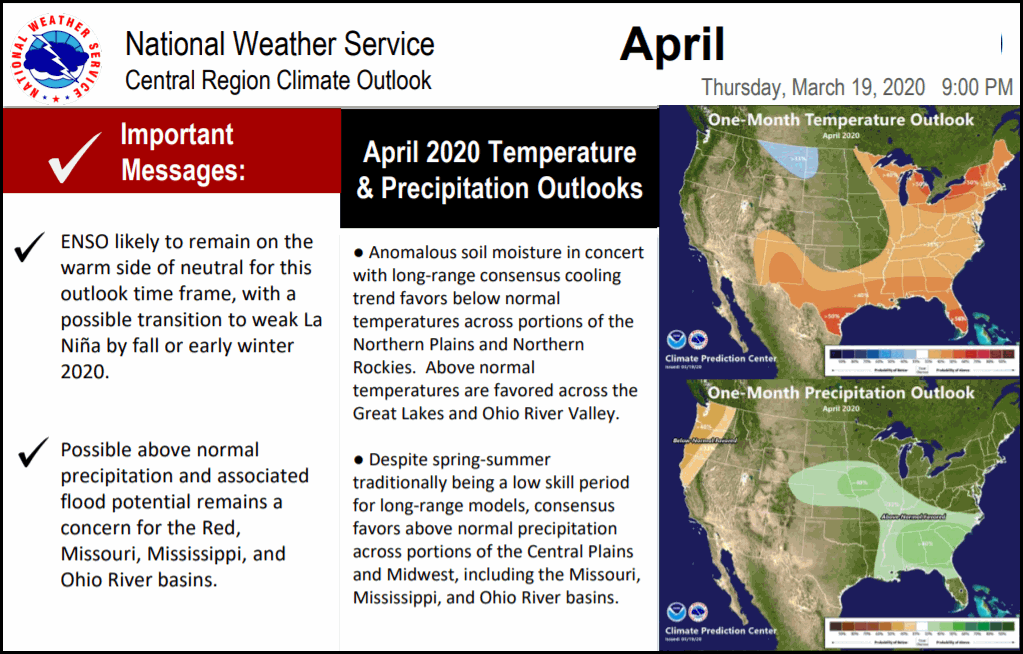 Going a step further into late spring and early summer the CPC is going warmer and wetter than normal for the entire Midwest. No areas appear prone to drought.
We will get a taste of some of this warmer and wetter weather this weekend as a potent spring storm plows across Iowa Saturday. Ahead of the main storm a couple ripples of energy will generate what looks like scattered light precipitation Wednesday night and again Thursday night. (tough to time that out precisely). In general the amounts should be 2/10ths of an inch or less.
Then the classic March cyclone approaches Friday night with a potent warm front and strong warm advection. That should generate showers and thunderstorms with the potential for heavy rain in the stronger storms. The EURO has this for total precipitation. Lots of spots with at least an inch.
As for snow, that stays well to the north with limited cold air until after the low passes.
What will be interesting to watch is the warm front Saturday. The EURO has it through by early afternoon and temperatures surge to what could be the warmest levels of the year. These are the projected highs on the EURO...mid 70s into SE Iowa.
There should be dew points into the 60s which would generate some healthy instability. The EURO has this for CAPE values at 4pm Saturday.
This could set the stage for some strong to severe storms with the triple point coming onto eastern Iowa at peak heating. Near the warm front the flow will be strongly backed and shear should reach significant levels. You can see the set-up the EURO has at 1:00pm Saturday. Depending on timing and heating that has the look of a severe weather set-up. We will need to monitor that in coming days.
This is going to be a wind maker too with brisk south winds Saturday turning to powerful west winds late Saturday night and Sunday. Gusts could go over 50 mph.
In advance of all this a few light showers or sprinkles could work into the north Wednesday afternoon but for much of the day and most of my area it will be dry warmer day. That's all for now and keep working on those social distancing skills. Roll weather...TS