SERIOUS SEVERE WEATHER CONCERNS TO START THE WEEKEND...
HOW DOES SPRING COMPARE TO NORMAL
How do you know when spring has begun? Is it the appearance of the first tiny leaves on the trees, or the first crocus plants peeping through the snow? The First Leaf and First Bloom Indices are synthetic measures of these early season events in plants, based on recent temperature conditions. These models allow us to track the progression of spring onset across the country.
Spring leaf out continues to spread northward into the nation, three to four weeks earlier than the long-term average (1981-2010) in some locations. Boston, MA and Providence, RI are 2-3 weeks early, Indianapolis, IN is 4 days early, Pueblo, CO is 1 week late, and Reno, NV is 1-2 weeks early.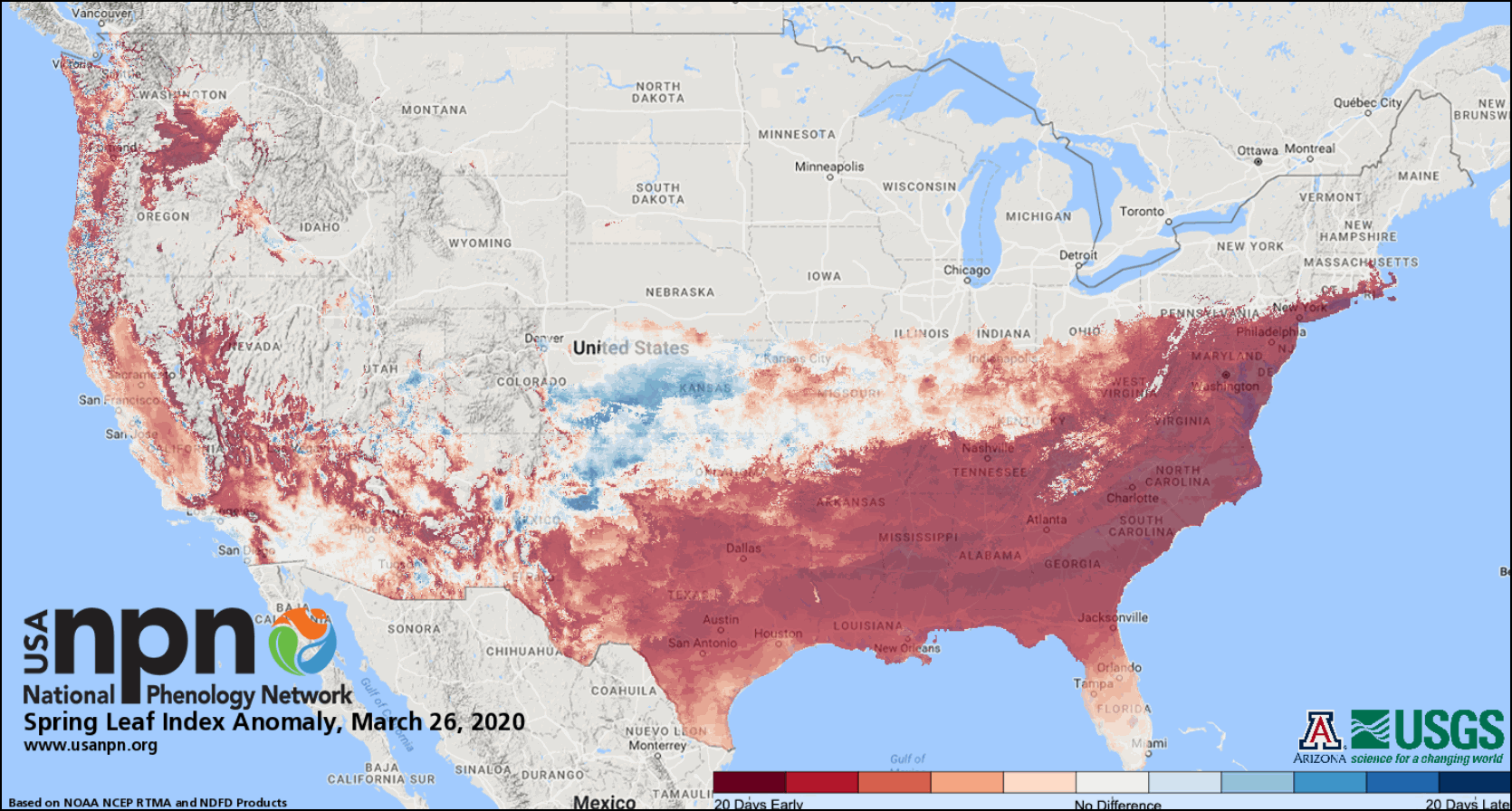 HOW OFTEN DO WE SEE A SPRING THIS EARLY OR LATE?
In places where spring has sprung, how typical is this year's spring? Darker colors represent springs that are unusually early or late in the long-term record. Gray indicates an average spring. In parts of the Southeast and Northwest, this year's spring is the earliest in the 39-year record (dark green).
You can see why things have popped in the south and southeast by looking at the temperature departures which are way above normal the past 2 weeks where this spring is the earliest on record.
Much of the area that's been the warmest has also been the driest indicative of that strong solar insolation that's prevailed. Here are the 14 day precipitation departures. The wettest region is located on the edge of the early season heat (what's known as the ring of fire).
SEVERE STORMS THIS WEEKEND:
It won't last long but it still seems my area is likely to see the warmest readings of the year this Saturday That will be tied to a strong spring storm that will blitz the region Saturday. Passing north it will send south winds and a warm front into the region by early Saturday afternoon. You can see it here close to HWY 20 at mid-afternoon.