SERIOUS SEVERE WEATHER CONCERNS TO START THE WEEKEND...
HOW DOES SPRING COMPARE TO NORMAL
How do you know when spring has begun? Is it the appearance of the first tiny leaves on the trees, or the first crocus plants peeping through the snow? The First Leaf and First Bloom Indices are synthetic measures of these early season events in plants, based on recent temperature conditions. These models allow us to track the progression of spring onset across the country.
Spring leaf out continues to spread northward into the nation, three to four weeks earlier than the long-term average (1981-2010) in some locations. Boston, MA and Providence, RI are 2-3 weeks early, Indianapolis, IN is 4 days early, Pueblo, CO is 1 week late, and Reno, NV is 1-2 weeks early.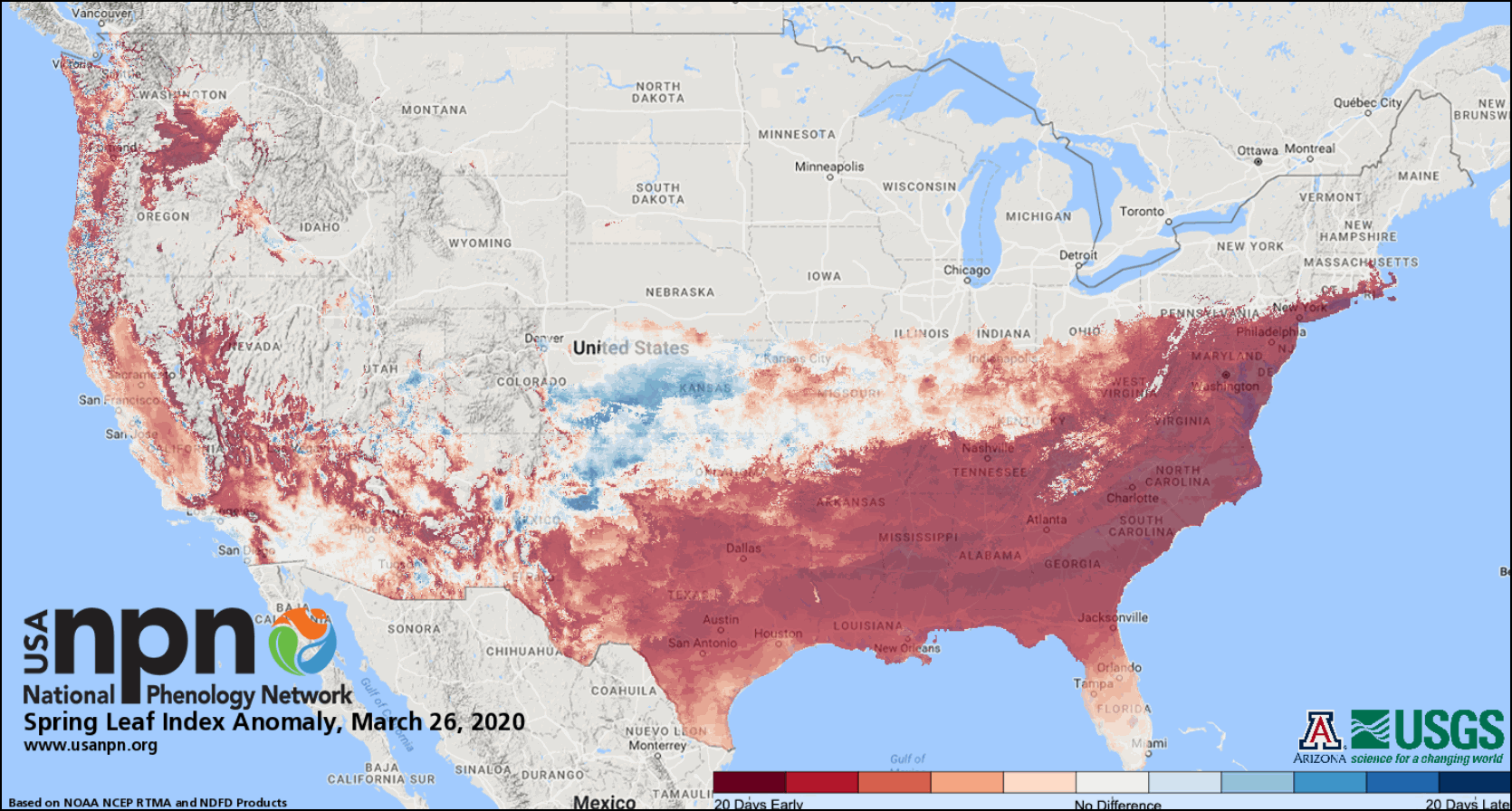 HOW OFTEN DO WE SEE A SPRING THIS EARLY OR LATE?
In places where spring has sprung, how typical is this year's spring? Darker colors represent springs that are unusually early or late in the long-term record. Gray indicates an average spring. In parts of the Southeast and Northwest, this year's spring is the earliest in the 39-year record (dark green).
You can see why things have popped in the south and southeast by looking at the temperature departures which are way above normal the past 2 weeks where this spring is the earliest on record.
Much of the area that's been the warmest has also been the driest indicative of that strong solar insolation that's prevailed. Here are the 14 day precipitation departures. The wettest region is located on the edge of the early season heat (what's known as the ring of fire).
SEVERE STORMS THIS WEEKEND:
It won't last long but it still seems my area is likely to see the warmest readings of the year this Saturday That will be tied to a strong spring storm that will blitz the region Saturday. Passing north it will send south winds and a warm front into the region by early Saturday afternoon. You can see it here close to HWY 20 at mid-afternoon.
The EURO shows highs getting into the upper 60s to low 70s over the southern 2/3rds of my area. The determining factor in the degree of warmth will lingering clouds and scattered showers and storms that might temper readings where they linger the longest, especially north of I-80.
Another very important parameter to watch Saturday is moisture. The EURO is really generous with that showing dew points as high as 66 into the southeast tip of Iowa. I'm guessing the last time that we saw levels that high was October, perhaps even September.
That type of moisture in tandem with that degree of warmth is likely to generate high instability for late March. The threat of strong storms will exist with a triple point play and pronounced dry line invading the area during peak heating. The warm front could further enhance shear by backing the flow and it's a scenario that has the potential to produce all modes of severe weather including tornadoes Saturday. if things all come together (as it looks possible now) this setup is very dynamic and points to a significant severe weather threat. The Storm Prediction Center has upgraded from a marginal and slight risk to enhanced and moderate risk in southeastern Iowa and much of western Illinois.
SPC DEFINES A MODERATE RISK THIS WAY
Moderate risk - An area where widespread severe weather with several tornadoes and/or numerous severe thunderstorms is likely, some of which should be intense. This risk is usually reserved for days with several supercells producing intense tornadoes and/or very large hail, or an intense squall line with widespread damaging winds
Even before the main event, there is also the possibility of elevated storms Friday night with a stout low level jet and strong warm advection. Storms would be elevated which would mean the potential exists for hail along with pockets of heavy rain, especially over the southern half of the area. SPC has upgraded Friday's severe weather outlook to include a slight risk up to roughly I-80.
The precipitation both Friday night and Saturday looks to banded and tied to convective swaths which could produce 1-2" rains in spots and less than 1/4" in others. The EURO has this for total precipitation.
After the warm southerly winds Saturday strong westerly wind will howl late Saturday night and Sunday. That will bring cooler drier air to the region and put an end to the precipitation threat in a big hurry. Any snow that falls will be well to the north as you can see in this depiction from the EURO.
I should also mention there is the chance of showers around the south (especially I-80 south) Friday. These look light with the main show holding off until Friday night and Saturday. I also want to say before I close that despite the moderate risk of severe weather Saturday, the difference between a major severe weather outbreak and a few strong storms can come down to one ingredient failing to cooperate. That alters the recipe and what could have been a deadly day turns into garden variety thunderstorms. I'm not trying to sensationalize the threat but do want you to know there are lots of irons in the fire where the moderate risk is in effect. We'll see where things stand later Friday. Roll weather and keep honing those social distancing skills...TS