THE FIRST STORM OF THE NEW YEAR...
Happy New Year! Can you believe 2020 is behind us? Thank god for that! Hey, our active weather pattern is picking up right where the old year left off with another storm system. This one will actually be in a slowly weakening phase as it rolls through which is a good thing considering it will still cause problems with freezing rain and snow in the southeast 2/3rds of my area. Here's what the storm looks like on the hi-res satellite imagery as 2021 arrived.
The system in the southern branch of the jet will be moving almost due north through mid-day Friday taking a dead aim at Iowa as it lifts out of Texas. However, as it reaches NE Kansas it runs into a block aloft which shears the energy. That weakens the storm and turns it abruptly east towards Illinois and Indiana.
Even so, the warm advection should be strong enough to force the precipitation shield into the southeastern third of Iowa and much of Illinois Monday afternoon and evening. Areas further northwest will be spared, including my far northwestern tier of counties in Iowa. As you can see below, at the time of this posting much of my area is under a winter weather advisory for 1-4" of snow and perhaps some freezing rain in the far south and east.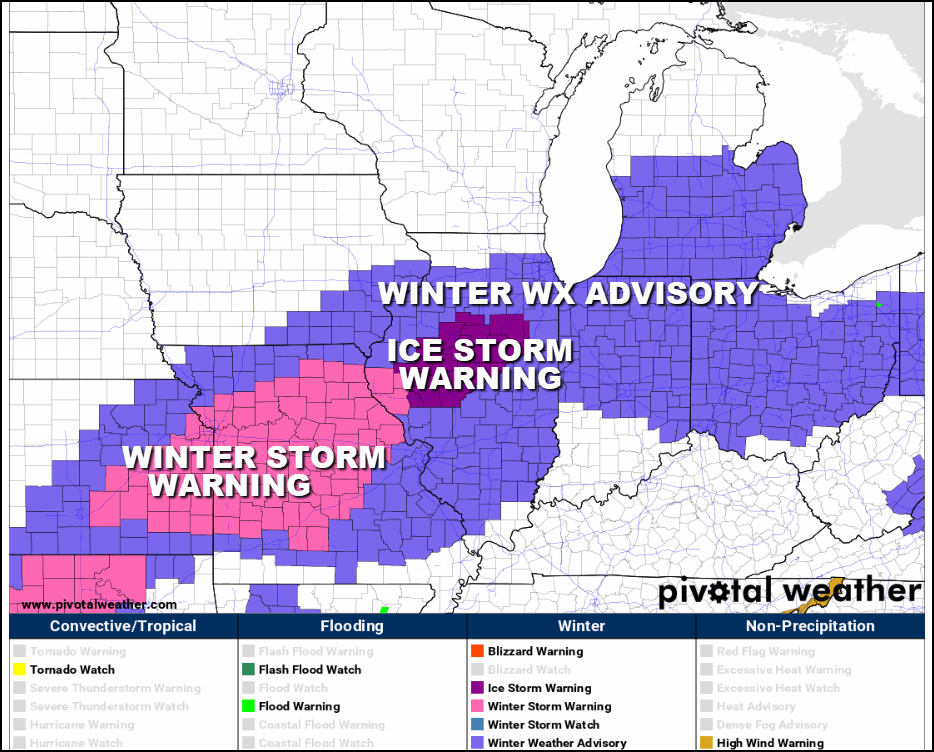 Overall problems in my area should be the worst in those spots which get into any icing. It does not take much of that to cause significant travel issues. However, the winter storm severity index from the Weather Prediction Center shows minor impacts in my area, mainly from snow accumulations.
At last check, WPC shows 50-75 percent odds of an inch or more of snow thought the core of my area. Personally I think those should be beefed up into the 75-95 percent category.
The official NWS forecast shows amounts that look like this as of New Years evening.
Based on the latest models these amounts should end up on the low end in the south with some potential for amounts to enter the 5-6" range, especially in southeast Iowa. The 1" line is shown from Grinnell to Cedar Rapids and on to near Dubuque. Southeast of there 2-5" totals are common. Again, the potential is there for up to 6" in spots if the EURO is on track from the Quad Cities southwest.
The GFS is not quite as aggressive with QPF so it's snow amounts are slightly lower. Some of that is due to the fact it has a bit more freezing rain in the southeast third.
The 12k NAM is further north than the GFS and more generous with moisture. The back edge (NW fringe) of the snow shield is northwest of the Cedar Rapids and Dubuque metro areas. That could very well be the case and It does appear that "wherever" that line sets up it will be a sharp and dramatic cut-off. You are in it or completely out of it in about 15 miles. Impossible to call that line but be aware that it will exist.
The 3k NAM with its high resolution parameters made a rather significant shift NW with the snow shield from its previous run. It's now the furthest NW with accumulating snow and chips away at amounts in WC Illinois just east of the Mississippi. It has some very generous totals in SE Iowa.
This is the 3k HRRR. It's running further southeast than the other models. I like the HRRR when we get into that 6 to 8 hour window but we are half a day away from reaching that threshold so I am inclined to give it lower consideration than the EURO and other U.S. model solutions. That means accumulating snows will most likely be near and southeast of a line form Grinnell to Cedar Rapids and on to Dubuque.. A small shift in track north or south could make a difference on the fringes. If I had to pick a model to lean on at 3:00AM. Friday morning I would go 12k NAM or EURO for what it's worth. We will need to monitor radar trends as Friday unfolds.
By the way, this is the area with the best chance of icing as of Thursday night. This could end up being a little further northwest and heavier and also needs to be watched closely on Friday.
This mess will all be gone by Saturday but the pattern in my estimation has excellent potential for additional snow systems in the next couple of weeks. There's some indicators that I really like and it will be interesting to see how things play out. As a tease, this is the EURO control showing snow totals the next 46 days. This is not a forecast and its value in this type of product is its ability to show trends...and man what a snowy trend this is pointing at. I see the signals/teleconnections that's causing the EURO to lean in this direction. This could very well be overblown but I think there is merit in the overall trend. of above normal snowfall.
That's enough for the first day of 2021. Hope it's a great year and I thank you all for spending some of it here on TSwails.com Roll weather...TS