THE SIGNS POINT TO AN ACTIVE WEATHER PATTERN....
As I noted in yesterday's post it looked as though the Midwest was soon to enter another active period of weather. After the recent break in precipitation this week, overall wetness should return return by early next week. Beyond that, there are signs the remainder of February and much of March could remain rather unsettled.
Below are the average 500mb jet stream average heights from the CFSv2 ensembles out to March 30th.
Note the southwest flow around a trough in the west and a ridge over the east. That certainly implies a fight over the central U.S. as cold and warm air battle for supremacy. This type of pattern should also have above normal moisture that could result in heavy precipitation over the next 6 weeks.
The CFSv2 has this for total precipitation through March 30th. 4-7" totals are common.
If those amounts verify the totals would be 150-300% greater than normal for the period. You can see widespread wet weather over the central U.S.
Over the next 15 days, the ensembles of the GEFS and EURO (comprised of an average of 51 members) are both wet, especially in the eastern Midwest. The GEFS has this for total precip through February 28th. Much of this is rain from my area east!
The EURO EPS precip. totals look like this over the same period.
Most of what you see in the Midwest does not fall until February 20th and beyond. The Climate Prediction Center is in agreement depicting a wet 6-10 day period. I concur.
Temperatures in my area do not look extreme (either warm or cold) with a 6-10 day outlook near normal. The only thing that could create a bust is significant deepening of a storm that tracks over central Iowa. That could drag a punch of very mild air into the region. It would not last longer than a day or two but it's something to watch that's on my radar. Overall warmth is more likely than prolonged cold.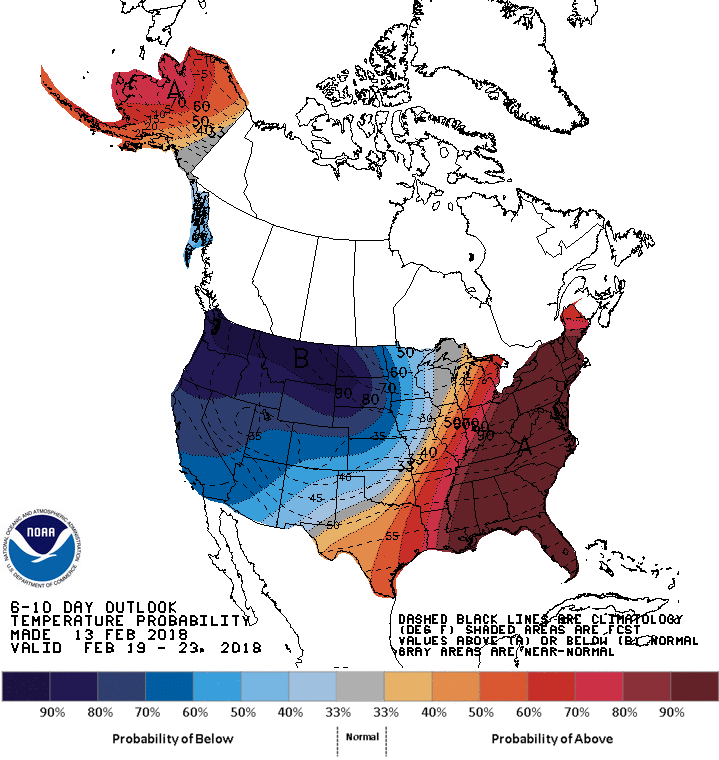 At some point snow could once again become an issue for some once colder air can work back into the pattern. Right now there is great uncertainty in the precise location of storm tracks so I cant see anything that's a concern for my area, at least through Monday. However, both the EURO and GEFS ensembles do have snow at some point in the next 15 days, probably later than sooner. Here's the EURO EPS mean snowfall forecast through February 28th
The GEFS mean snowfall forecast looks pretty healthy over much of the Midwest through March 1st.
While there is lots of disagreement on the details of the developing pattern, there's good consistency that beginning next week the potential is there for an unsettled and somewhat stormy period of weather with seasonal to above normal temperatures. And, in the short term, much of what falls from the sky should come in the form or rain as opposed to snow. Kind of crummy but you don't have to shovel it! Roll weather...TS