Make no mistake about it, winter is not going down without a fight. The latest long range guidance continues to point to a blocking pattern centered around a polar vortex that roams central Canada for at least the next 2 weeks. That drives the storm track far to the south opening the floodgates for unseasonably cold air. The 500mb jet looks like this Friday the 30th.
2 weeks later April 13th we have this at 500mb.
The GEFS ensemble produces these temperature departures at 5000 ft (850mb). That's some wicked cold in SC Canada! That's the air mass we'll be drawing off.
Day 0-5
Days 5-10
Days 10-15
The Climate Prediction Center shows these odds for below temperatures in the 8-14 day period.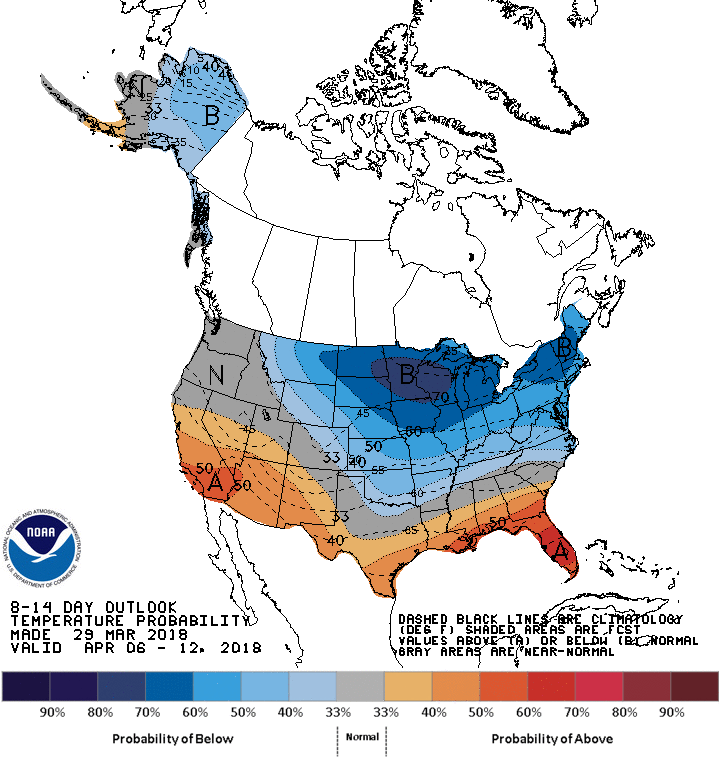 Not to be a downer but the overall pattern is likely to stay cool into early May if the EURO weeklies have their way. They show this for 32 day temperature departures.
The 46 day outlook which goes out to May 14th is not much better.
It also appears the pattern the next 2 weeks should be active with the jet cutting through the central United States. Here's the precipitation probabilities from CPC. While it's cold and relatively dry in the upper Midwest, the central and southern sections should be wetter.
The GFS operational showed this for 16 day precipitation.
With the abundance of cold the next 2 weeks some snow is likely. The question is where? Certainly the north is favored but it's impossible for models to determine tracks and intensity at this range. I personally think there could be at least 2 significant storms that produce some snow, especially in the upper Midwest. The GEFS ensembles have this for 16 day snowfall.
One last thing and that's the Easter forecast. By all accounts this will be the coldest since 2008 and one of the chilliest on record.
The worst Easter in Cedar Rapids for cold was March of 1894 when the high was 22 and the low was 6.
Goodness gracious great balls of fire. The egg hunts were a blast that year! Have a wonderful weekend and roll weather....TS