Far too frequently we've been talking talking about how unusually wet and soggy the weather has been over the central Midwest. September has had more than its share of deluges and the numbers are telling. Much of northern Iowa, southern Minnesota, and SW Wisconsin are having one of their wettest September's.
Here's a remarkable statistic. In Waterloo, Iowa the rainfall total for this September is now the largest on record for the site for any month! The 12.89 inches this September bests the previous largest total of 12.82 inches for July 1999. Having September as the wettest month on record is rare for a long term climate site in Iowa. Of the 113 long term sites tracked by the Iowa Mesonet, September was the wettest month on record for only 14 sites. The most common wettest month is June (41 sites)
Here's the September rain departures across Iowa.
Departures for the rest of the Midwest.
New Hampton, Iowa is vying for its wettest year on record with 54.68 inches of rain to date. Normal is 31.44"
With the wet weather soil moisture is far above normal as you can see in the anomalies below.
Most of northern Iowa ranks in the top 95-99% of soil moisture as of September 27th.
This is troubling considering the weather pattern is shaping up to be a wet one in the 6-10 day period. Here's the forecast for PWAT's (precipitable water vapor) on the GFS next Wednesday...around 2.00" centered on the Quad Cities.
That's an extreme level of moisture for October. You can see in the anomalies it's about 2-3 times more than average.
With that type of deep moisture any showers and storms have the potential to dump local heavy rain. An additional factor to watch next week is the remnants of hurricane Rosa which are slated to enter the Midwest midweek. Here's the projected track.
Suffice it to say, the potential is there for more heavy rain around the central Midwest starting Sunday or Monday of the coming week. The Climate Prediction Center 6-10 day rainfall outlook.
The Weather Prediction Center 7 day rainfall forecast takes aim at the already hard hit areas of the Midwest with more heavy rain.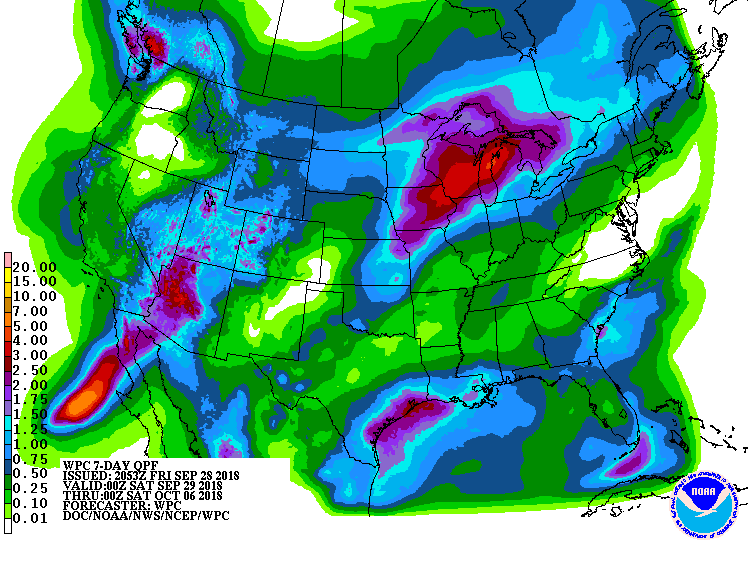 The 10 day GFS rainfall forecast. No rest for the weary. In this case the soggy!
If nothing else, temperatures will moderate by Monday after another cool day Saturday. Here's what the EURO has for highs Saturday.
Now look at Monday. A much warmer day for much of my local area.
That's where things stand for now. Have a terrific weekend and roll weather...TS