JUST A FEW MINOR THINGS...
The weather hasn't changed much over the last about two weeks around here. Temperatures have been near and below normal and there's been little in the way of precipitation. Over the last seven days, most of the Upper Midwest has seen less than a half an inch of rain -
There will be a few disturbances that move through that will bring some rain.
However, the air is so dry that these systems fall apart and there won't be much actually falling and accumulating. Here's the rainfall totals through Wednesday morning:
The first disturbance that moves through Sunday won't produce much rain, but it will produce some wind...
The green is indicating sustained winds of 20-30 mph with wind gusts upward of 40 mph Sunday afternoon. A second cold front will move through Tuesday, just bringing a few light showers, and then will lead to a cool and calm Halloween.
Temperatures Halloween afternoon look like this:
And we'll fall down into the 30s by the next morning, so trick or treaters will want to wear long sleeves or a jacket Wednesday evening. Temperatures all week will be in the 40s and 50s... nothing different from what we've experienced lately.
In the long range, temperatures are expected to remain near and below normal (and of course normal is getting colder and colder...). Here's the outlook through the first week of November -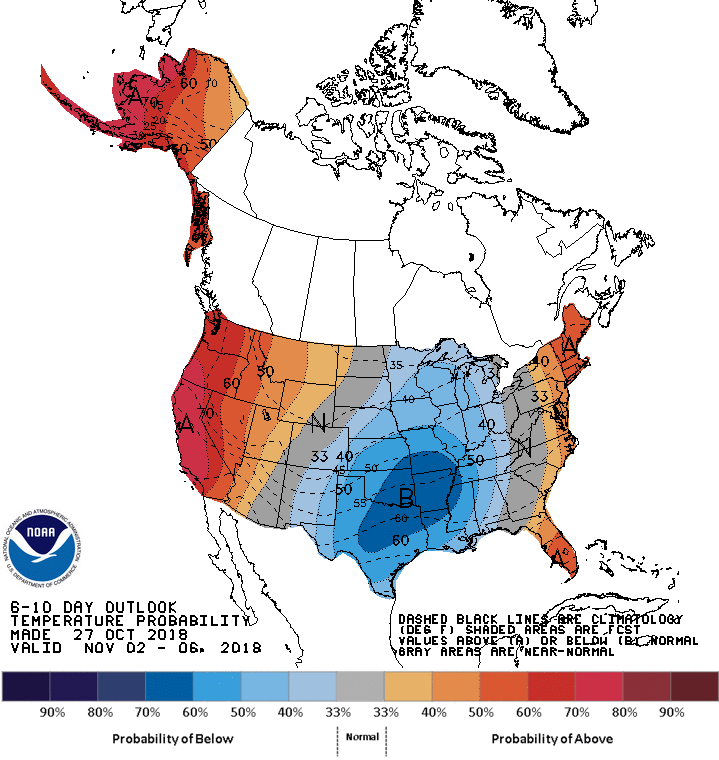 But it's just a few minor changes to the weather here and there over the next few days...
RK