THE PRECIPITATION PARADE CONTINUES....
As we head into May the pattern as of late doesn't seem to want to budge. Active - with rounds of showers and storms - and on the cool side - with below normal temperatures. Over the last month temperatures have been running well below normal:
Temperatures have been running five to ten degrees below normal... leading to one of the coldest Aprils on record for many locations. Cedar Rapids will likely land in the 5th or 6th spot.
A lot of the chill has to do with the relentless rain of the last month:
The rain hasn't been all bad news, it has led to significant improvement in the drought:
This is the first time all of my local area has been out of drought conditions in over a year -- last time was April 21, 2021. However, the very frequent rain has led to difficulty for farmers getting into the fields due to it being too wet. Unfortunately more rain is coming.
We get a break on Sunday after a cold front swept through on Saturday. The front brought rain to eastern Iowa and some severe weather to Illinois - including some reported tornadoes: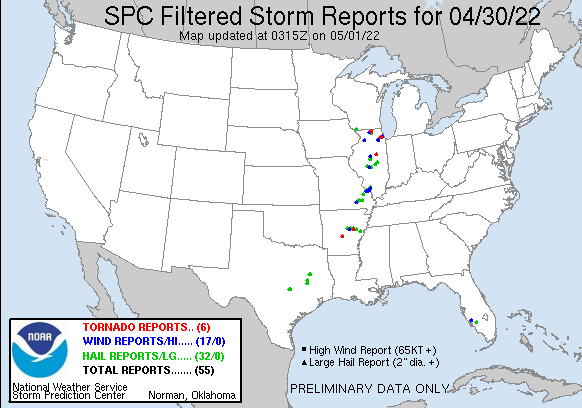 Sunday is going to be cloudy, cool and breezy:
Then the next storm system arrives late Monday into Tuesday:
There will be another system late Thursday into Friday:
When the week is all said in done we could pick up a good bit of rain:
Unfortunately throughout the week temperatures will be held below normal in the 50s to near 60...
RK