It was a cold start to Sunday across the Upper Midwest as temperatures fell below the freezing mark.
In fact Moline set a record - tying the old record that was set 41 years ago!
It warmed up nicely in the afternoon and now the spring weather will resume as we begin the week. In fact I think many of us in my local area will get close to, if not hit, the 80 degree mark Monday afternoon.
A big 'ol ridge will be parked over the eastern half of the country. There will be plenty of sunshine and dew points will be in the 30s and 40s (pretty low). That combination should allow temperatures to rocket in to the 70s and 80s!
The GFS - above - I think is under-doing temperatures (as the models have been the last week or so). This will likely be the first 80 degree day for many, including Cedar Rapids. This is also the latest first 80 since 2008, when we waited all the way until May 17th for the first 80 of the year!
And as we've been discussing the pattern turns more active across the central United States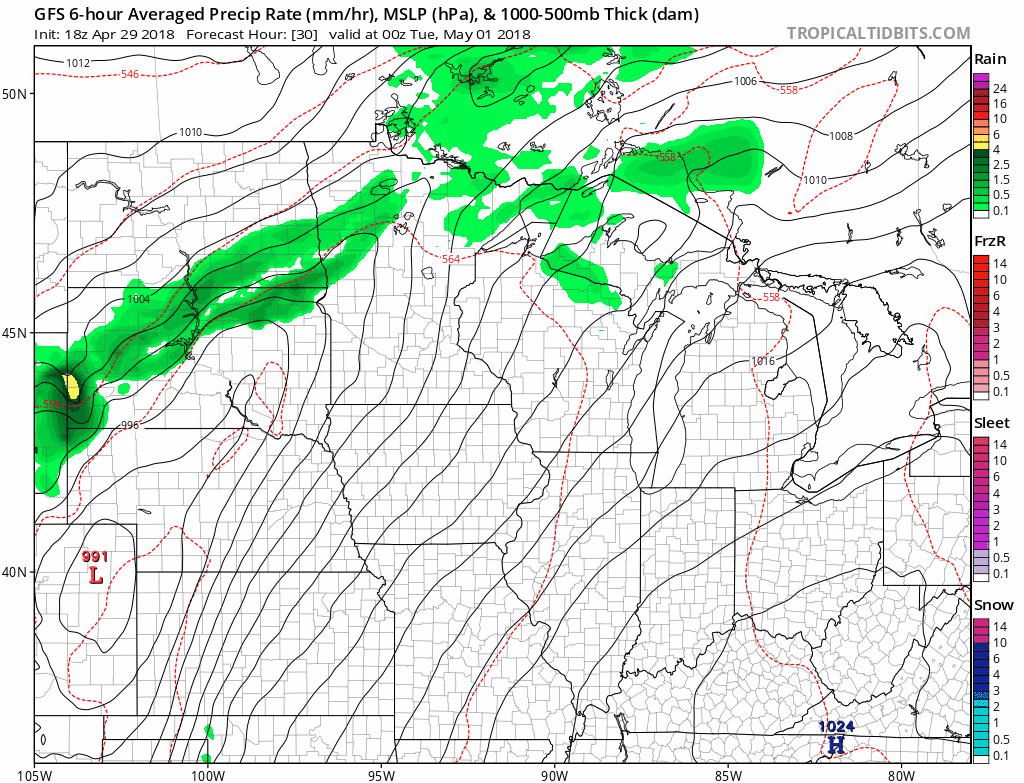 There are some differences on where the boundary sets up (which will be the driver of showers and thunderstorms). This will become more clear in the next 24 hours. We will have no shortage of moisture and instability, though. Dew points go from being in the 30s and 40s Monday to feeling sticky Wednesday afternoon.
And there will be plenty of instability.. here's the CAPE (convective available potential energy) values for Wednesday afternoon -
This will be dependent on where the boundary ends up and the higher dew points and CAPE values will be further north or south accordingly. This is just one model, the European and NAM have different placements of the boundary so as I mentioned we'll hopefully zero in on a solution soon.
Spring will be in full swing with warmth, humidity, showers and thunderstorms this week.
RK