If you think the last year has been wet, you're right and I have the numbers to prove it. Much of the northern half of my area has measured 55 to 64 inches of precipitation. Some spots have had all-time wet months and even years. Many of us are living on a sponge.
Looking at the departures below you can see that with the exception of Missouri and SC Iowa, much of Iowa and surrounding states are 10 or more inches above normal on precipitation the past 365 days.
As you would expect the ground is highly saturated resembling a sponge. Soil moisture measurements are reported to be at 99% of their maximum levels.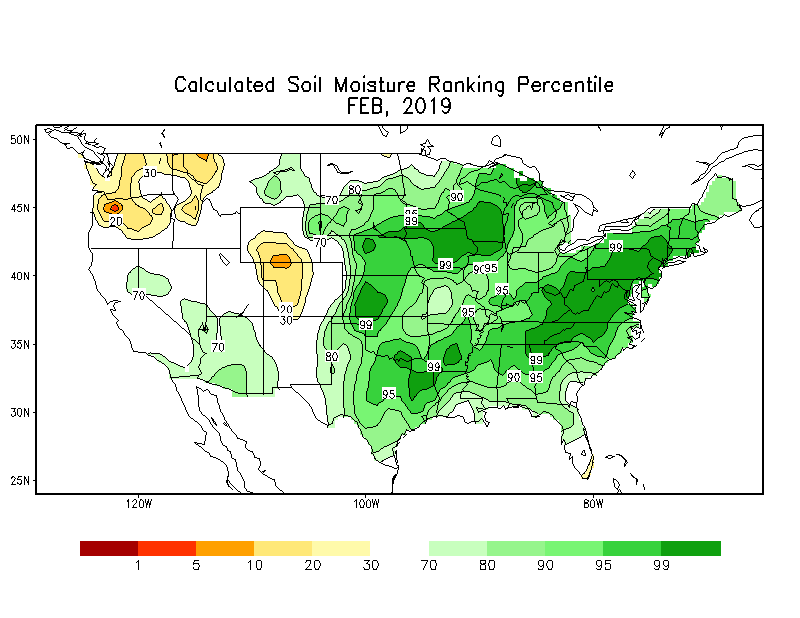 The soggy soils and snowy winter was the reason why the spring snow melt risk was alarmingly high this year. While much of the snow has melted alleviating some of the risk, the potential of flooding with heavy spring rains will be a concern into early summer. As of Thursday 41 Midwest gauges are in major flood, 77 in moderate, 102 in minor, and 159 near flood stage!
Going forward the pattern is expected to become more active and wet in the 6-10 day period. The Weather Prediction Center indicates above normal precipitation ahead.
That outlook is based on what our major models are showing for upcoming totals. The EURO has this for precipitation amounts the next 15 days.
The GFS is just a heavy only further north.
Both of these scenarios could certainly impact rivers and streams over the next 2 weeks. This type of widespread rain will also see to it that grounds remain wet at a time when farmers are looking to start working the fields.
The next storm to impact the Midwest will keep its precipitation confined to the southern half of the Midwest (and my local area) late Friday and Friday night. Here's what Thursday night's 0Z models are showing for amounts.
The GFS
The EURO
The rain is out by Saturday and the rest of the weekend is dominated by clearing skies and chilly conditions. Highs will generally be in the range of 40-45. Lows Sunday morning could dip into the upper teens to lower 20s in many spots. Hopefully we won't be that cold again for a good 7 months! Happy Friday and roll weather...TS