TORNADO SEASON DOA, THE WEEKEND SEES A COOLING TREND....
May through mid June is the peak of the tornado season here in the Midwest and so far this year we have breezed through the period with twisters being weak, few, and far between. Following a big start to the season over the southeast U.S. during early spring. the action has slowed all across the nation ever since. After 73 deaths through April, only one fatality was reported in May and so far none during June. During May only 139 twisters were reported compared to 506 last year and the 3 year average of 322!
Notice how after being close to the maximum count in late April we have now fallen below the 50th percentile.
You can see how 2020 ranks with all other years since 2005. Again, the country has fallen well below the mean.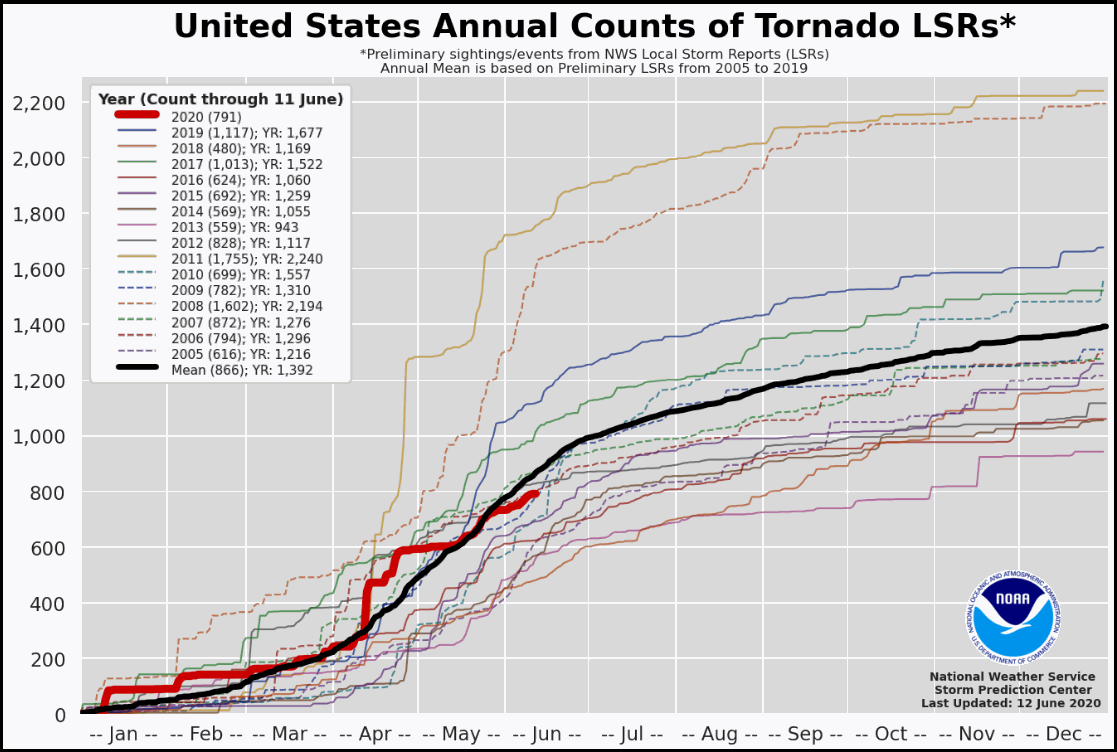 Hail reports are at their lowest level going back to 2005
The one variable that's up is wind reports currently maintaining 2nd place going back to 2005
From Kansas eastward into Kentucky and Indiana its been 1-2 months since the last tornado warning was issued. Very rare considering the downturn occurred during the heart of the tornado season.
Overall the set-up for severe weather looks poor the next week with not a day earning so much as a slight risk assessment from SPC.
That should be a tip off that the weather around the central Midwest will be pretty uneventful this weekend. There may be some brief spotty showers around Saturday as another back door front slips in and turns winds easterly and temperatures cooler. These are the highs the EURO projects for Saturday and Sunday. If clouds refuse to break for sunshine, some spots may not get out of the upper 60s Saturday.
Saturday highs
Sunday highs
Precipitation is again expected to be spotty and light. Through Sunday evening the EURO has this for totals.
The GFS for the same period.
After Monday, temperatures will gradually warm and moisture levels will increase. That could bring the next chance of showers and thunderstorms early next week. More on that potential in coming days. Have an excellent weekend and roll weather...TS