SEVERE WEATHER POUNDS THE AREA, MORE THIS WEEK...
My area was located in the ring of fire Saturday and and when it was all over, ended up taking a direct hit from multiple severe thunderstorms. When it was over, 525 reports of severe weather (hail and wind) were recorded by the Storm Prediction Center, many in in the heart of my area.
Here's some pictures sent to me by my assistant meteorologist Rebecca Kopelman who worked the event on KGAN TV. She also spent the night without power. Winds of 70-80 mph and baseball sized hail did considerable damage.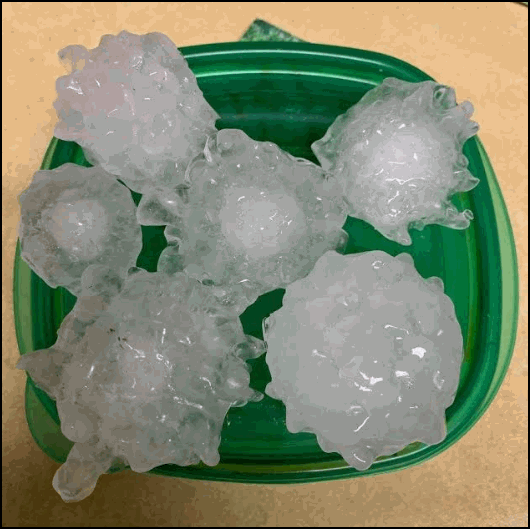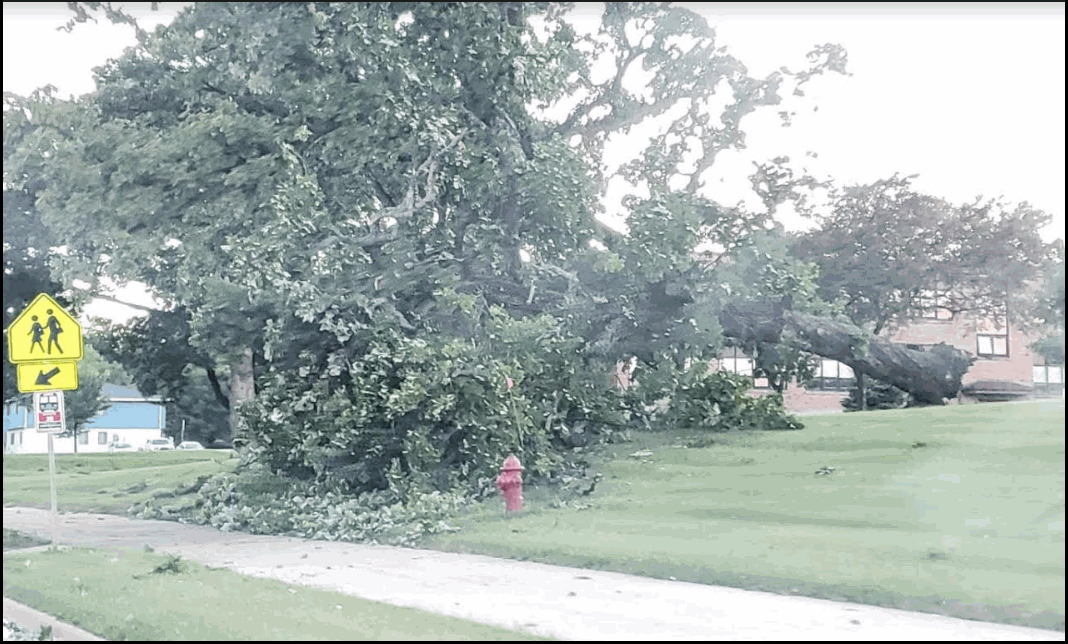 During the day Iowa and NW Illinois was on the nose of an intense heat dome centered over the Plains and lower Midwest where readings were in the range of 95 to 105 degrees.
That created high instability with CAPE values 4,000 to 5,000 j/kg. With the core of the heat SW that kept the lid off the cap allowing intense thunderstorm development.
Parameters by mid to late afternoon were showing high potential for microburst winds which were eventually realized.
Here you can see bulk shear was in the range of 40-45 kts. That was more than strong enough to get supercell thunderstorms going. Fortunately vertical shear was not quite strong enough for circulations to get down to the ground, hence no tornadoes.
Here's the first round of storms Saturday morning which were not as widespread or intense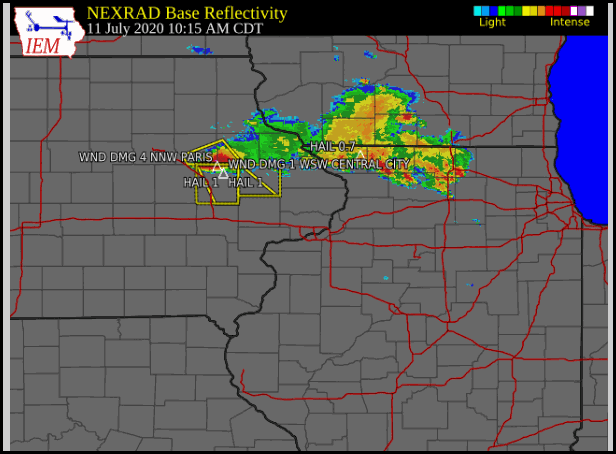 The second wave shown here surging southeast at 6:15 "bowed out" causing all kinds of ruckus with wind, hail, and torrential downpours.
Today and Monday turns quiet with seasonal warmth and humidity, highs mid 80s. By Tuesday the heat makes another push northward but never quite gets into the area. That means the central Midwest is again on the edge of the jet and in the firing zone for thunderstorms. Instability is likely to be high so strong storms and heavy rain will be quite possible where storms develop and track. There will be plenty of dry hours between thunderstorm clusters but the threat of active weather could be with us much of the week.
This weekend the heat has the potential to make inroads into the area which will raise temperatures perhaps into the mid 90s over my southern counties. Dew points on the GFS are shown as high as 85 in central Iowa this Saturday which is incredibly high and essentially brutal for anything alive.
Heat index values of 105 to 110 seem attainable, something models have been hinting at for several days.
Thunderstorm clusters earlier in the week with attendant outflow boundaries will determine just how far north the heat can advance and how bad it will ultimately be in my area. With all that's going on we'll need to take it one day at a time. At least for the next 24-48 hours we get a breather! Roll weather...TS