A PEACEFUL PATTERN AFTER A DREADFUL WEEK...
The work week certainly ended better than it started with seasonal August weather ruling Friday's skies.This satellite image does show a bit of a change as our next weather maker enters central Iowa. Showers and storms that have festered overnight to the northwest will fight to hold together as they reach my area by daybreak.
The front that's triggered the precipitation is expected to fizzle as a rain maker as the overall forcing and dynamics weaken as it crosses my area early Saturday. Thus, any remaining showers will be light as they drift out of the region by Saturday afternoon. The EURO shows this for total rainfall.
After that, rain chances look meager at best through the majority if next week as the Midwest goes into NW flow. Over the next 7 days the EURO shows this for rainfall departures.
Temperatures continue to look comfortable as readings cool behind Saturday's frontal passage. The GFS is still the most bullish with the cool down showing these temperature departures in 5 day increments.
Day 0-5
Days 5-10
Here are the actual GFS numbers.
The EURO is a bit more on the summery side and I am leaning that way with dry soil conditions and low dew points that are shown in the 50s and low 60 Sunday through Friday of next week. In that environment the days will warm nicely in the sun but cool noticeably after it sets in the evening. The shorter days are taking their toll. The 88 the 21st is questionable.
Believe it or not, there are places that still remain without power from Monday's storm. So at the very least this pattern is good for clean-up and comfort. Here's a sad scene out of my old neighborhood in Marion.
As of Friday significant power outages remain in all these counties across the central third of Iowa. I remain in awe of the power of this incredible derecho!
Power crews from all over the Midwest continue assisting as best they can.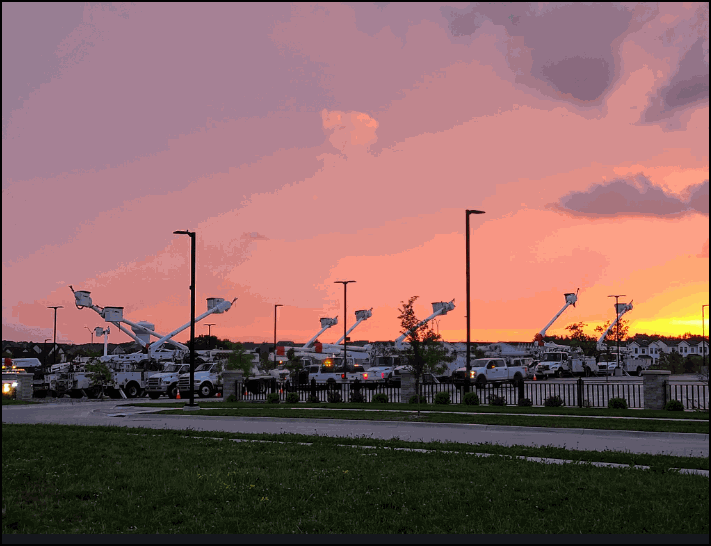 Scenes like this are all too common around much of my area.
That's the long and short of it for now. Until next time, roll weather...TS