THE CAVALRY RIDES...WE HOPE
Here's the way not to start the summer season. Halfway through June, Waterloo, Iowa is reporting its warmest and driest start ever to the month.
Most places from the Quad Cities north and west are experiencing similar conditions but look what's on the horizon. It's the cavalry, at least we hope that's the case. Look at the long range outlooks from the Climate Prediction Center. It shows strong odds of below normal temperatures and above normal precipitation June 20-29th. When is the last time we saw that?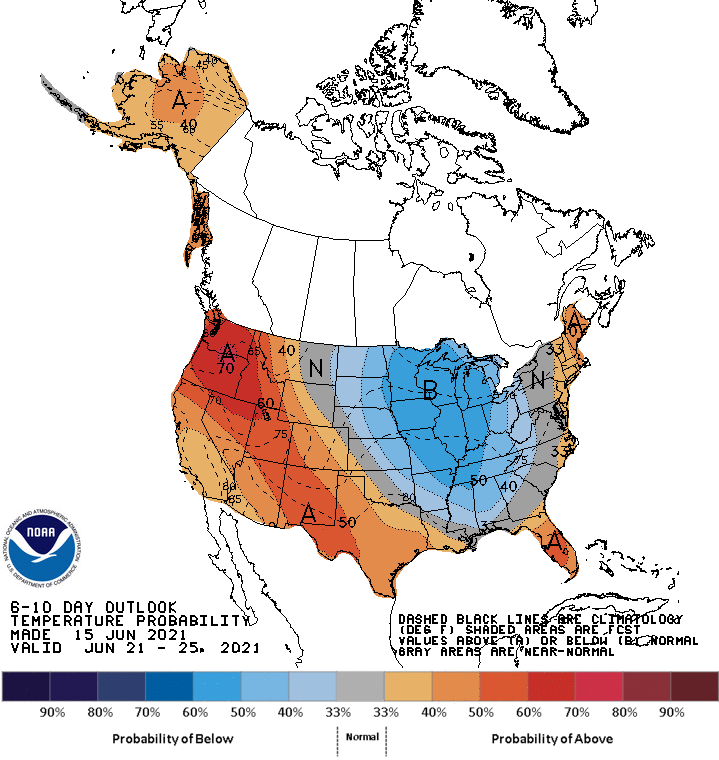 You can watch this new pattern evolve in the jet stream at 500mb. The ridge that's kept us warm and dry for two weeks is beaten back by an abnormally strong trough that digs into the central Midwest.
As early as next Monday night temperatures could be as much as 20 degrees below average.
June 20-25th departures look like this.
June 25-30th they remain significant.
The change could begin with some active thunderstorms Thursday evening as the first of several cool fronts enters the Midwest. As of Tuesday evening, the Storm Prediction Center has already issued a slight risk outlook for severe storms over the majority of my area. We haven't seen any sort of organized severe threat like that for weeks so that is a notable.
The EURO, 3 and 12K NAM are the most aggressive with the storm potential with the low level jet aimed at the region sending a surge of hot humid air into the region. The EURO actually sends highs into the mid 90s in my western counties with readings over 100 in central Iowa. It promises to be a toasty day!
Thanks to that heat and dew points pushing 70 it gets some good instability going as evidenced by the CAPE values it produces.
Even though the 3K NAM is a few degrees cooler it generates even higher CAPE that if materialized would be quite explosive.
It also produces better shear and spits out a significant tornado index of 13 in east/central Iowa. That's a very big number and will require close attention in further runs. If the cap breaks for a couple supercells this would be an issue. We'll see where things stand later Wednesday. SPC is leaning away from the tornado threat at this time thinking more of a threat from damaging winds in a linear storm mode.
The GFS is further north with storm development and keeps the bulk of any precipitation and convection further north. All the models do crank out some decent rain in the heavier convection. Unfortunately there's not much consistency regarding location. But, rain is rain and many farmers and gardeners would be thrilled to see it (without the severe element). Here's what the EURO, 12K NAM,3K NAM and GFS show for rain totals late Thursday and Thursday night.
The EURO
The GFS