BAH HUMBUG, SPRING TAKES A BREAK...
That big weekend storm we just experienced was a real soaker with much of my area picking up 1-3 inches of cold wind driven rain. The heavier totals were right up the spine of the Mississippi.
Here's a larger perspective of rain coverage and amounts.
Behind the storm the pattern has turned very blocky in Canada with high heights extending from coast to coast across Canada at 500mb. (See the red color representative of the extensive block of higher pressures). That forces lower heights and below normal temperatures into the mid-latitudes of the United States. (Note the areas of blue over the upper Midwest).
The overall pattern remains locked in place well into the 6-10 day period meaning dry but quite cool conditions will prevail. The Climate Prediction Center shows the late season chill covering much of the nation east of the Rockies.
That teleconnects well with phase 7 of the MJO which we'll by cycling through. See how the Midwest is the epicenter of the temperature anomilies.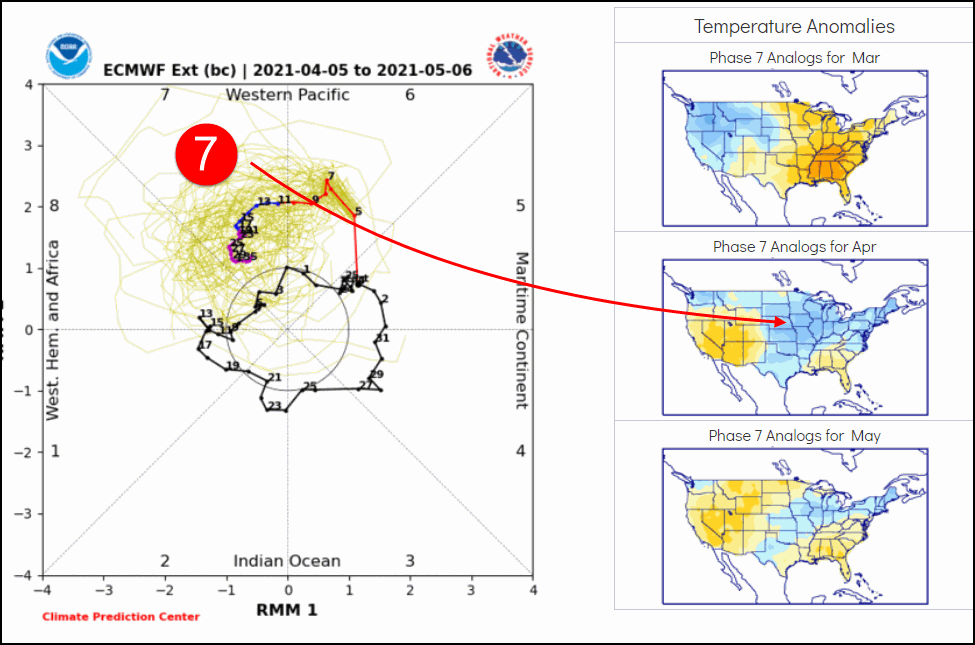 The EPO (Eastern Pacific Oscillation) is also a big temperature driver and you can see how it's going into a highly amplified negative phase. This implies significant ridging over the west which opens the door for the cold to seep into the pattern. The EURO shows the EPO 6 standard deviations below the mean which is about as low as it goes. That's a very strong signal for below normal temperatures.
Over the 10 day period April 17-April 27th, readings are expected to average 8-12 degrees below normal per day. That's very impressive for that length of time.
With all that cool air around moisture looks limited and so does rain. The 15 day rainfall departures are quite glaring, 2 inches or more in many spots. It's a good thing we got the rain we did this past weekend.
The lack of instability will also shut down the risk of severe weather around much of country at a time when it should be ramping up. By April 29 the season is in full bloom over the southern plains on its way to the Midwest. Much of the next two weeks appear to be very much on the quiet side.
Meantime, gear up for some cool days ahead. I expect several early mornings where lows will be down around freezing before this week is over. We'll need to watch for any night where we get with clear skies and light winds, that's a recipe for frost as April takes it's version of a spring break. Until next time, roll weather...TS