A powerful fall storm rolled across the Midwest Wednesday bringing a punch and a wide variety of weather ranging from severe thunderstorms in Wisconsin to snow in North Dakota.
As expected, my local area was in the warm sector ahead of the cold front where southerly winds of 45-50 mph sent temperatures well into the 80s. Here in Cedar Rapids the high reached 88 degrees. The last year we had an October temperature that was warmer was 2006.
At 8:00pm Wednesday you can see the front separating temperatures in the 80s ahead of the front from 30s behind it.
The huge temperature contrast was responsible for the strong non-thunderstorm winds. Below you can see wind advisories over parts of Iowa and Minnesota where gusts of 50 mph are expected. Tornado watches were in effect over Wisconsin.
Along the cold front a line of thunderstorms raced across the Midwest extending from Wisconsin back through Iowa and all the way into Kansas.
Now that the front is through much colder air has replaced our summery conditions. Highs Thursday will be at least 30 degrees colder and mainly in the 50s.
The next batch of rain arrives later Thursday night into Friday night. The 3k NAM shows this for total rainfall.
The Weather Prediction Center has a moderate risk of excessive rainfall over parts of my area Friday. That means there is a 20-50% chance of rainfall exceeding flash flood guidance within 25 miles of a point.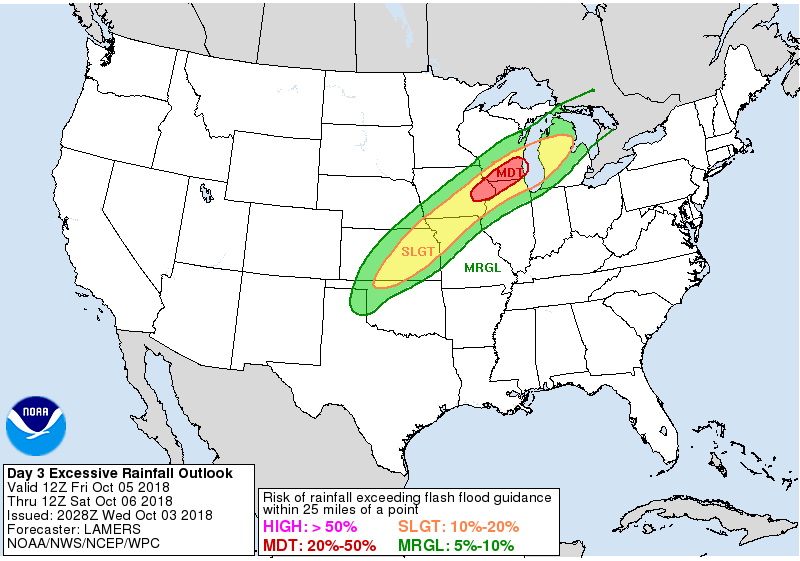 Beyond that, the pattern remains wet into next week. WPC has this for 7 day rainfall ending next Wednesday.
Make no mistake about, we're going to be nature's punching bag for several more days. The region is in a highly energetic pattern and one that will bring cool damp weather through the weekend. See ya 80s! Roll weather....TS