ACTIVE PATTERN UNFOLDING....
We're heading into a pretty typical June pattern - warm, muggy, and scattered showers and thunderstorms. Here's a look at the next week on the GFS to demonstrate the potential for rain --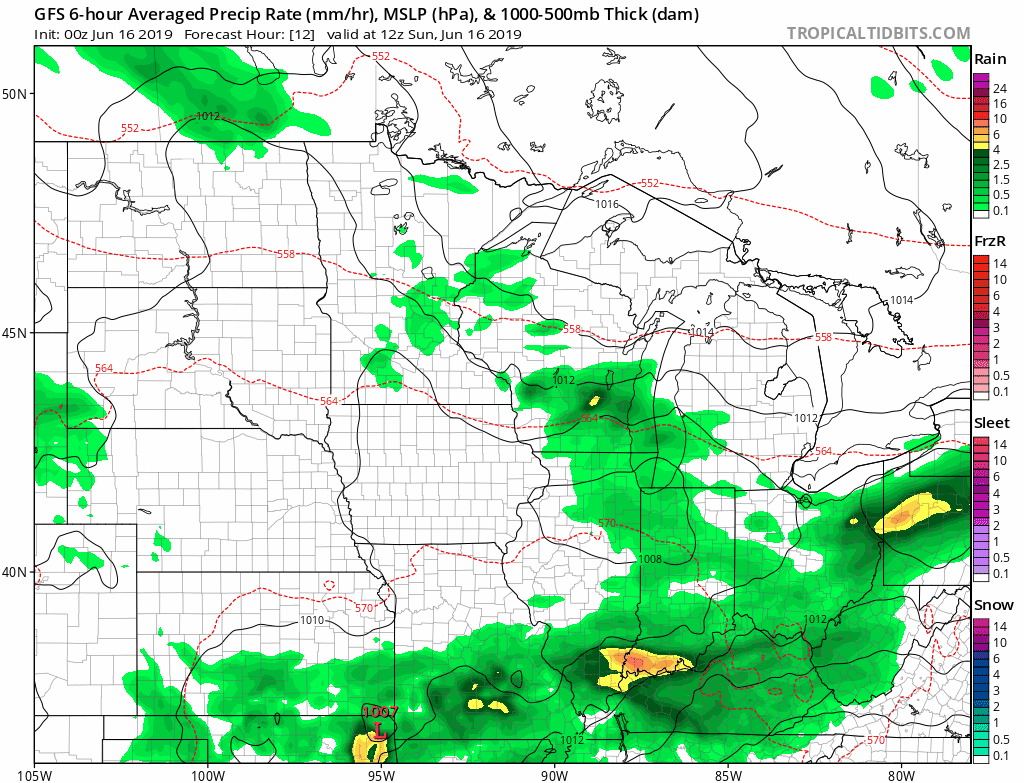 Now mind you the placement of the rain will change and some heavy rain will be possible in parts of the Upper Midwest this week.
Let's start with Father's Day. The cold front that produced the thunderstorms Saturday will still be lingering in the Midwest and lead to a mix of sun and clouds. It will still be warm and muggy.
A few light, spotty showers will be possible late in the day. Overall it shouldn't be a bad day for Father's Day! The aformentioned front will be wobbling north and south through the week - that's why there will be near daily storm chances. There will be a storm that tracks through the central U.S. Wednesday, which will likely produce heavy rain. Here's a track of the storm on the European model.
And a look at the precipitable water values (PWATS) for Wednesday, which are around 100 to 200% above normal.
We'll have to just take it day by day and work out the daily rain chances as they come. Here's a look at the seven day precipitation on the European model
And the GFS -
Pretty good consistency on the heavier rain the further south you go, but still some uncertainty on the exact placement of everything. The active pattern will continue into much of June, here's the outlook from the Climate Prediction Center through June 29th -
Pretty typical for June - a summery pattern!
RK
PS Happy Fathers Day to all the dads out there! Especially my dad, Allen Kopelman! Thank you for supporting me and always reading my article. And a shout out to Mr. Terry Swails for being a great Iowa dad and helping me with everything always.