I MARVEL AT THE PATTERN....
With the latest winter storm moving out of the area its time to focus on the Arctic cold that spreads into the Midwest the remainder of the week and any snow that follows. The jet stream is showing a sharp buckle late week that opens the door to the deep freeze. That's a long fetch of polar air you are looking at.
With the fresh, deep snow pack the stage is set for some bitterly cold lows both Friday and Saturday morning. Here in Cedar Rapids the thermometer bottoms out at 20 below both days.
Friday morning lows.
Saturday morning lows.
Of course there is likely to be some wind, enough to produce wind chills of 35 below Friday morning.
These low temperatures are about 40 degrees below normal.
That gives us a chance to reach record lows. In Cedar Rapids, Saturday morning holds the best chance when the record is 18 below set in the great winter of 1936.
If that doesn't open your eyes, I'm sure this will. The EURO which is usually the more reasonable and rational model has this for lows the 31st of January. 36 below in Cedar Rapids! That would crush the all-time record low of 33 below in 2009.
The wind chills are 50-55 below. Few of us have experienced anything worse than that!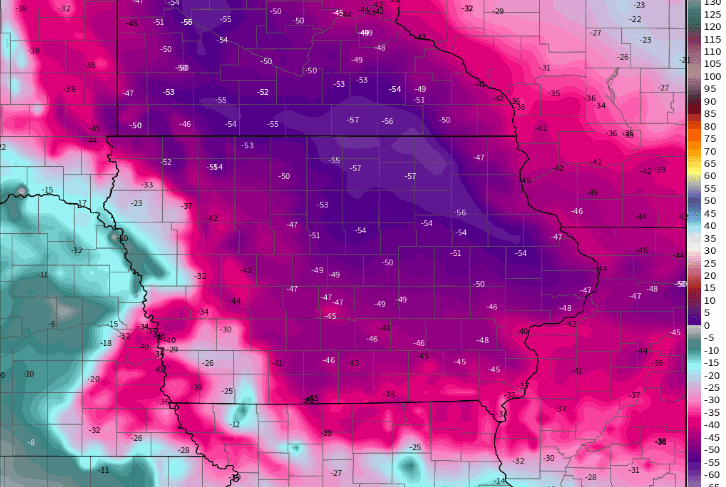 As this first wave of frigid air arrives something to keep a keen eye on is blowing and drifting snow Thursday. You can see the tight pressure gradient behind the Arctic front which could generate gusts to 40 mph. This has the potential to produce white out conditions at times in the open country. The NWS in Minneapolis is already contemplating a blizzard watch for the combination of blowing snow and frigid temperatures.
We've not seen the last of the snow either. There are 3 potential clippers that rapidly move in succession through parts of my area. These will have high snow ratios of more than 20:1. That means quick bursts of fluffy snow. Tracks are yet to be determined but the first 2 systems could lay down 1-3" totals.
The 3rd system has been showing much more potential and could be a significant weather maker Sunday night and Monday. There is still some disagreement on the track but both the GFS and the EURO are depicting a vigorous clipper that would like have a heavy snow band north of the center. It would also have strong winds and with the powdery snow it would create blowing and drifting. After its departure, bitter cold air and low wind chills grip the Midwest. Here's what the storm looks like Sunday night on the GFS.
This is what the GFS puts down for total snowfall at this very early juncture.
The EURO is just off the charts with snowfall from this system. It's so extreme I can't even put it up to avoid