THE SIGHTS, SOUNDS, AND FEEL OF SUMMER...
If you haven't noticed by now, summer rainfall is a measure in contrasts. Rain tends to be convective in nature meaning sharp delineations on the edges of the thunderstorm clusters. Simply put, it can mean dramatic swings in amounts over relatively short distances. One side of town can get an inch in a downpour while the other side hears the thunder but gets little more than a refreshing breeze.
That general feast or famine type concept has never been more evident in the central Midwest than this summer. Take a look at the rainfall totals since the beginning of meteorological summer (June 1st) to the present. During that 6 week period some parts of eastern Iowa have seen 10-12 inches of rain. Quickly going west or east the amounts plummet into the 2-4" category.
I've got people begging for rain in parts of my area and others pleading for it to stop. These departures over such a small area are really spectacular.
As you would guess, soil moisture anomalies range from well above normal to well below over a relatively short area. Where the rains have been absent, the feedback from dry soils and reduced evaporation is likely enhancing the dry conditions.That can allow for precipitation patterns to get locked in place for extended periods of time. It's also cooler where the rain is more prevalent.
Tuesday was another day where late afternoon and overnight rains fell largely in areas that were holding there own or were already sufficiently wet. This is the radar image from 1:30 AM Tuesday night showing the storms over the southeastern half of Iowa, one of the wetter parts of the central Midwest.
Wednesday, the front that caused Tuesday night's activity slowly sinks through Iowa. The day has a good chance of starting with clouds and in some areas scattered shows and storms. These should thin and in some areas drift out by late morning before re-firing again in spots during the afternoon. There is some chance the storms could get strong in a few locations over the south but that will be highly dependent on the amount of heating which could be significantly restricted by clouds. Currently, SPC has only my far southeast counties highlighted for strong to severe storms.
The biggest threat is the potential for some gully washers. Moisture levels are high and a wave near the right entrance region of the jet could activate high precipitation producing storms. With water vapor levels approaching 2" in spots any slow moving cells could crank out 1-2" rain totals in a relatively short period of time. That needs to be monitored. The area south of I-80 seems to be most favored at this time.
The Weather Prediction Center does have parts of my area in a slight risk for excessive rainfall Wednesday..I personally think this will be revised further southeast than what's currently shown. Hopefully some of this hits the areas that really need it in Illinois.
Late week the focus turns to heat. For some time models have been hinting at heat index values of 100 to 105, possibly higher in the worst case scenario across the south. Friday will be steamy but Saturday and perhaps Sunday could be real scorchers. The Weather Prediction Center has a moderate risk of excessive heat indicated through the period July 22-28th. Saturday appears to be the day with the greatest potential for significant heat.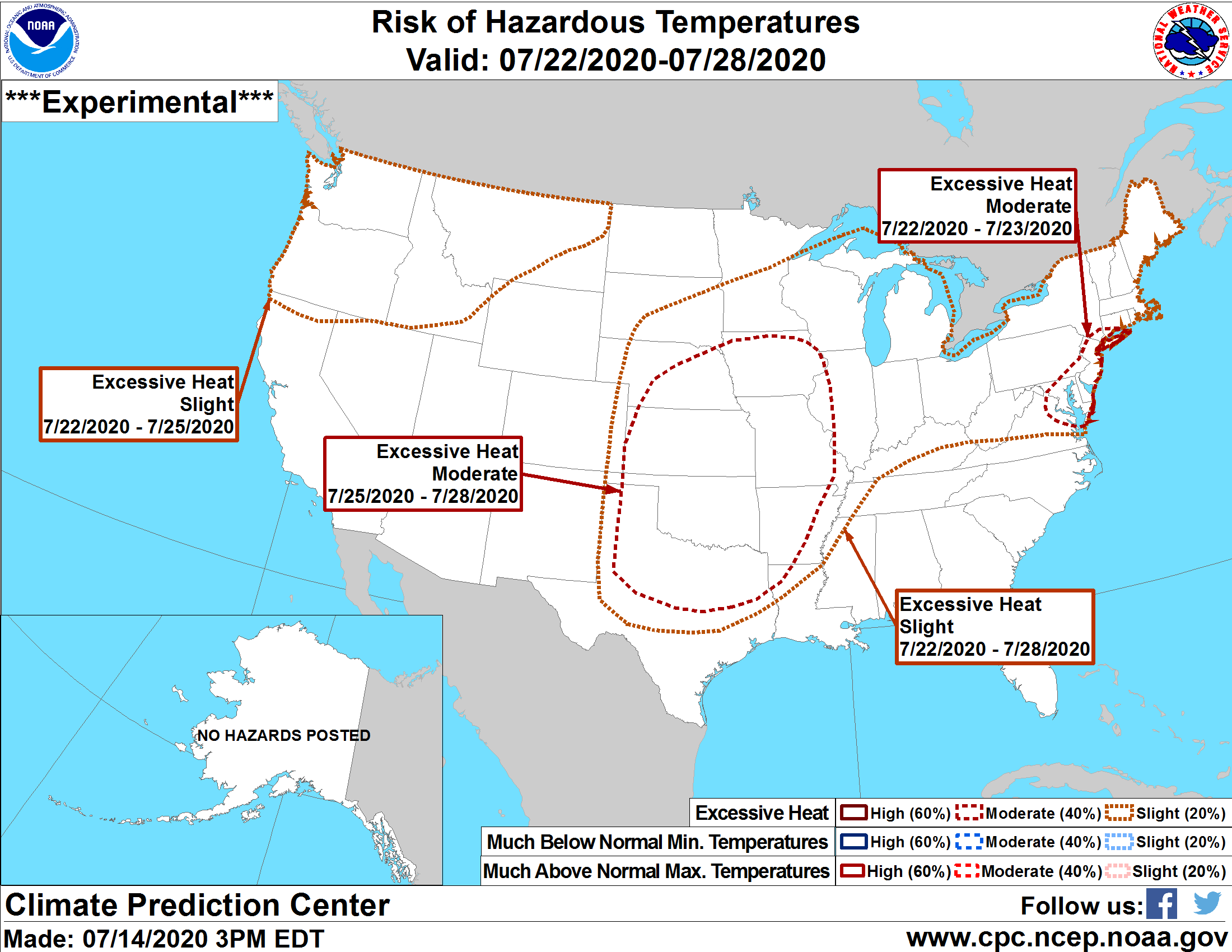 To wrap it up, scattered showers and storms Wednesday will give way to warmer and very sultry weather this weekend. Take your pic, either way we're in for some good old fashioned summery conditions. Roll weather...TS