WOW, WHAT A REVERSAL OF FORTUNES...
People, you just have to marvel at the incredible change we just went through with our weather. I'll use Waterloo as and example of just how dramatic it was. After setting a record low of 15 April 1st, the high temperature of 82 Sunday April 3rd tied the record high of 82! How unusual is a 67 degree swing such as that? As you can see in the meteogram from the Iowa Mesonet, both of those temperatures are in the top 1 percent of coldest and warmest readings during the month of April. Coming within two days of one another is a real achievement.
In the graphic below you can see how much below and above readings have been since the start of April. That's manic stuff.
Here's the same period for Cedar Rapids which essentially shows similar trends and percentages although no records were broken or tied.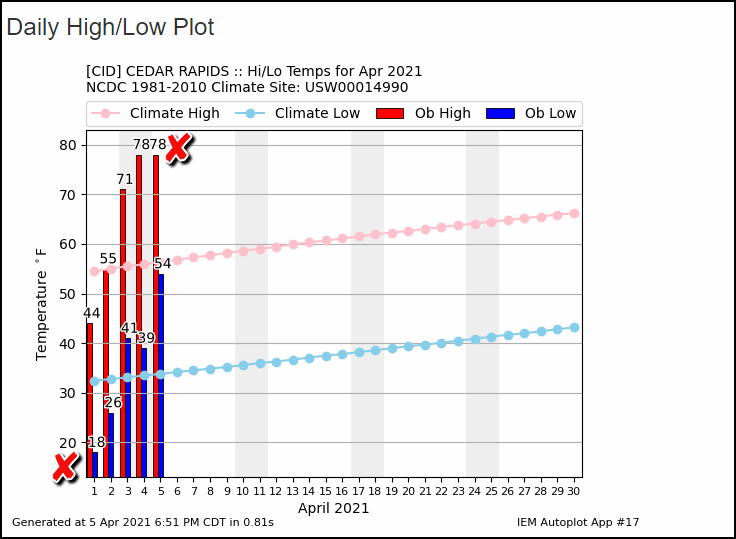 The question on everyone's mind now is how long can this great weather last? In terms of temperatures, we've essentially got two more days of much above normal readings. Tuesday will be the warmest with highs in the mid to upper 70s. The exception may be the far north up around HWY 20 where clouds and spotty precipitation may start to chip away at the warmth. Wednesday, clouds and scattered showers and storms will become bigger factors and how much of that we have to deal with will determine how warm we get. I still think most area can get back the low 70s. This is what the EURO shows for highs both days.
Highs Tuesday
Highs Wednesday
Regarding rainfall, (something we could use considering parts of the area have gone 9 days without), chances look rather meager until Wednesday. A few days ago it appeared that a good soaking was likely around much of the region. However, the track of the upper air low and its associated energy has shifted such that the heavier amounts are now further either north or south. A dry slot into the circulation center creates the split and keeps the rain more scattered and lighter across eastern Iowa and much of Illinois. Even so there will be a couple opportunities for showers and storms. Thunderstorm chances look to be greatest Wednesday afternoon or evening when we develop some modest CAPE and forcing during peak heating. I would not be surprised to see a couple strong storms but I don't think the severe threat looks all that great which is fortunate considering the amount of early season warmth and moisture in play. SPC shows this for the severe weather risk.
Tuesday
Wednesday
As for rainfall, here are the totals suggested by the latest models through Friday.
The EURO
The GFS
The 12K NAM
In conclusion, Tuesday promises to be another fantastic spring day with temperatures more typical of late May or early June. Really good stuff. All I can say is bring it on. Roll weather...TS.